BY NICK MORGAN OF THE MAIL TRIBUNE February 28, 2019
More than half a year after a founding member of the Mickey Mouse Club disappeared in Southern Oregon, the story has become national news thanks to a Dateline NBC profile.
The story of Dennis W. Day, 76, who left the Phoenix home he shared with his husband July 15 and never returned, has been picked up by websites for People Magazine, USA Today, AOL News and London's Daily Mail since Dateline NBC posted a story Wednesday about his family's efforts to find him.V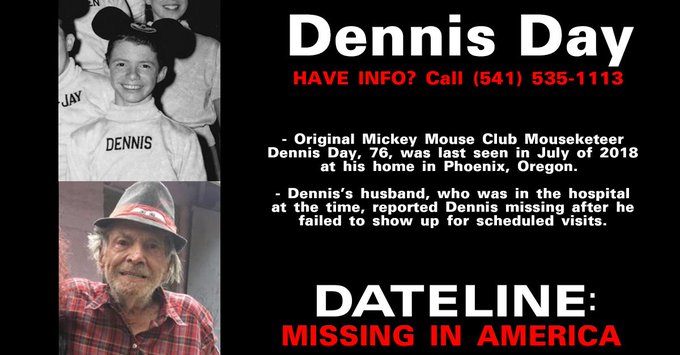 Family searching for original Mickey Mouse Club Mouseketeer Dennis Day, missing from Oregon since July 2018 #Dateline https://www.nbcnews.com/feature/missing-in-america/family-searching-original-mickey-mouse-club-mouseketeer-dennis-day-missing-n975891 …186:55 PM – Feb 25, 201920 people are talking about thisTwitter Ads info and privacy
The national attention has been months in the making, searches on Facebook show. In late November, a friend and administrator in the Facebook group "Help us find Dennis Day," originally known as "Friends of Dennis and Ernie," posted about Day's disappearance with the heading "PLEASE MAKE THIS GO VIRAL."

By Dec. 8, 2018, other friends sent out a press release about Day's disappearance to newspapers and TV stations across the state.
The Mail Tribuneran a story about his disappearance the next day.
The December release indicates Day's disappearance may have been related to hard times stemming from medical bills and poverty in retirement, but his niece is raising money through GoFundMe to hire a private investigator.
"There are many unanswered questions, and the story we've been told does not settle well with us," the family wrote on the crowdfunding page.
A call to Phoenix police was not immediately returned Thursday.
Day, who lived in Phoenix, was an original Mouseketeer for the first two seasons of the Mickey Mouse Club in 1956 and 1957, according to the release.
He moved to Oregon in the 1980s with his longtime partner, Ernest "Ernie" Caswell, whom he married in 2009.
Dennis Day and Ernie Caswell after they legally tied the knot in 2014. They first married in 2009.
Day made wine jellies in Southern Oregon and worked seasonally for Harry and David, while Caswell worked as a character actor for Oregon Shakespeare Festival in Ashland, according to the December release.
On July 15, Day told his husband he was going to visit friends, and left in a white 1996 Ford Escort wagon. The car was found 11 days later on the Oregon Coast, being driven by people that Day's friends didn't know.
http://mailtribune.com/news/top-stories/dateline-draws-attention-to-missing-southern-oregon-mouseketeer