BY NICK VENABLE – Cinema Blend
A discovery in the past week may lead to answers regarding the 2018 disappearance of one of the founding Mouseketeers from Disney's Mickey Mouse Club TV show, Dennis M. Day. Authorities recently announced that human remains were discovered on the premises of Day's Oregon home.
On Friday evening, Oregon State Police issued a press release stating that a human body had been discovered at the home that Dennis Day owned at 510 Pine St. in Phoenix, Oregon. The report stated that the body had not been identified yet. According to the Mail Tribune, the case is currently being investigated by the Medford Assault and Death Investigation Unit, which brings together Jackson County's D.A.'s office and Sheriff's office, as well as the Medford PD and Oregon State Police.
As of the time of this writing, no details have been announced regarding the identity, nor any circumstances surrounding how the body was found. According to Dennis Day's niece Denise Norris, there were dogs and a drone being used to search the property on Thursday.
Denise Norris and some of Day's other nieces, spearheaded by his sister Nelda Atkins, have taken an active role in recent months in spreading awareness about his disappearance. They'd even tried raising money to hire a private investigator to look into the case, as there were beliefs that Dennis Day's disappearance may have involved foul play.
Dennis W. Day reportedly hasn't been seen by anyone since July 2018, when he was reported missing by his ailing husband Ernie Caswell. His disappearance went widely unnoticed for months, reportedly due in part to Day's reclusive tendencies. But it later gained wider attention in January when a local NBC affiliate report gained traction, influencing Dateline NBC to profile the story.
Ernie Caswell, Day's husband of 46 years, was diagnosed with dementia and colon cancer and had been put into specialized care. It was after weeks had passed without one of Day's visits that Caswell got a hospital employee to contact the police and make the report. The Dateline report discussed possibilities that the piling medical costs had caused stress for the retired Day.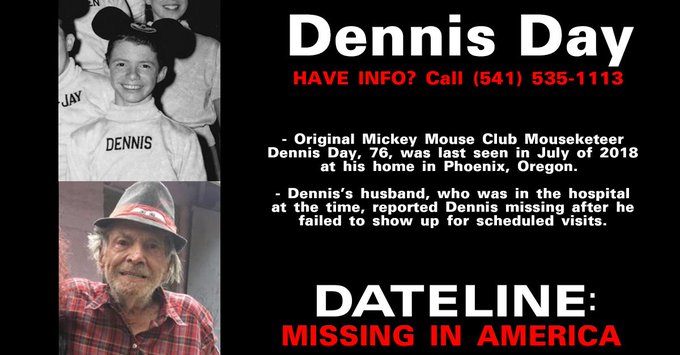 Nelda Atkins says her brother hadn't left his local area in over a decade, and she claimed the police hadn't contacted her after he was reported missing due to a lack of any family contact information beyond that of his husband. She also says they told her a man who was staying in Day's home at the time claimed that Day had left the house on foot one day, stating he was going to visit friends for a few days.
Though Dennis Day supposedly didn't use the car that he'd owned, the car later also went missing and was found along the Oregon coast not too long after his disappearance. Inside were two people that apparently didn't have any connections with Day. It's still unclear how they came to be in possession of the vehicle, but no criminal charges were filed, as foul play wasn't suspected at the time.
Already a talented dancer in his youth, the 12-year-old Dennis got hired by Disney in 1955 as one of the Mouseketeers for the upcoming Mickey Mouse Club television series. His lack of singing skills initially kept him off of the Mouseketeers' Red team, though he was still featured heavily throughout the first year. Having made it to the Red team by the end, Day was one of ten cast members who were brought back for Season 2, and he parted ways with the series in 1957.
Dennis Day still maintained his reputation within the show's legacy, however. He reunited with some cast members for a TV special celebrating Mickey Mouse's 40th birthday in 1968, and Day also returned for the Mouseketeer Reunion Show in 1980.
Many unanswered questions remain regarding the missing Dennis Day. Hopefully the renewed investigation will lead to justice and peace of mind for his family and friends.